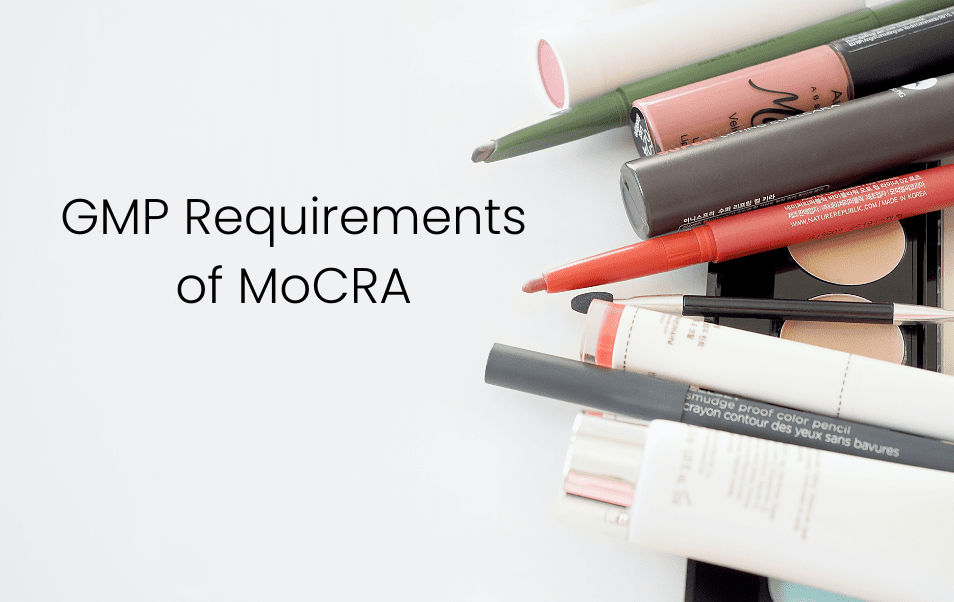 It's estimated that American consumers use 6 to 12 cosmetic products daily, contributing to the $430 billion personal care market in 2022, expected to reach $580 billion by 2027.
With such substantial growth comes the need for heightened regulation and oversight to ensure the quality and safety of cosmetic products. Previously governed by the 1938 Food, Drug, and Cosmetic Act (FDCA) and guidelines like the Voluntary Cosmetics Registration Program (VCRP), the personal care and cosmetics industry is experiencing a significant regulatory shift.
In December 2022, the Consolidated Appropriations Act of 2023 was signed into law authorizing the Modernization of Cosmetic Regulation Act (MoCRA). The introduction of MoCRA marks the largest change to the US Government's regulation of the industry in over 70 years.
What is MoCRA?
December 2022 witnessed a pivotal moment with the signing of the Consolidated Appropriations Act of 2023, ushering in the Modernization of Cosmetic Regulation Act (MoCRA). This landmark legislation represents the most significant alteration to the US Government's industry regulation in over seven decades. The MoCRA guidelines for the cosmetics industry include:
GMP Regulations: Mandates the FDA to establish mandatory Good Manufacturing Practices (GMP), outlined in Section 606 of MoCRA, providing comprehensive insights into this regulatory process.
Registration: All facilities involved in the manufacture or processing of cosmetic products for sale in the United States must register with the FDA by December 31, 2023.
Reporting: Covered companies are obligated to submit a detailed list of products and ingredient information to the FDA.
Recordkeeping: MoCRA introduces enhanced recordkeeping obligations, particularly concerning product safety and the reporting of "serious adverse events."
Labeling: Requirements include providing contact information, allergen identification on labels, and adherence to notifications and adverse event reporting standards.
What are Good Manufacturing Practices?
Manufacturers in the pharmaceutical, medical, and food industries have long embraced Good Manufacturing Practices (GMP) as a way to minimize risk and ensure consistency and control in quality standards. These principles cover areas such as facility design and sanitation, product testing, product identification, equipment, packaging, warehousing, and recordkeeping.
MoCRA & Cosmetics GMP Timeline
By the end of 2025, GMP will become an FDA-mandated requirement under MoCRA, ushering in a new regulatory era for facilities and personnel possibly unfamiliar with these protocols.
In compliance with MoCRA, the FDA is mandated to present proposed GMP regulations within two years of enactment, with the final regulations expected to be reissued by 2025. Currently, ISO 22716:2007 is the foundational standard for GMP regulations in the cosmetic products industry. However, advocacy groups anticipate further guidance after an additional period of public comment (Sec. 3505), specifically calling for additional requirements on talc and other raw ingredients.
All applicable cosmetic businesses must then provide proof of adherence to MoCRA's GMP standards by December 29, 2025.
Cosmetics GMP Guidance Under MoCRA
Navigating the draft guidance for GMPs in the cosmetics industry involves focusing on eight key areas, each essential for ensuring the safety, quality, and regulatory compliance of cosmetic products.
Documentation and Record Keeping
If the FDA has a reasonable belief that a cosmetic product is adulterated or could result in serious adverse health consequences, the agency has the authority to access and copy the business's records associated with that item (see Sec. 610 for more details).
MoCRA requires responsible parties to retain all records related to adverse events, product registration, facility registration, safety substantiation, labeling, and GMPs.
Detailed and accurate documentation of all aspects of the manufacturing process, including raw materials, production processes, and quality control measures.
Facility and Equipment
Floors, walls, and ceilings should be constructed of smooth, easily cleanable surfaces to adhere to hygiene standards and prevent contamination.
Facilities and equipment must be kept clean and in good repair to prevent contamination.
Utilize your internal PM system to manage qualification and validation process checks to ensure the reliability and efficacy of equipment.
Training and Qualification
Each facility must have a designated "responsible person" to provide the FDA with a detailed account of each business's cosmetic products, including ingredients, and provide annual updates (see Sec. 607 for more details).
Obtain qualification and validation of equipment used in the manufacturing process.
Consider training programs for personnel to ensure adherence to correct procedures.
Product Testing
A responsible person must maintain records demonstrating the safety of their business's products (see Sec. 608 for more details). Manufacturers can use relevant safety data available to support the safety of their products. All supporting safety data must be derived from scientifically sound methods.
Regular testing for stability, efficacy, and microbiological safety to ensure products meet safety and quality standards.
Click here to read more on the FDA's guidance for Product Testing of Cosmetics.
Hygiene Practices
Strict personnel hygiene standards for those directly involved in the manufacturing process, including the use of contamination control mats, should be implemented for personal cleanliness, proper attire, and hygiene practices to prevent any potential contamination.
In line with GMP, the production of cosmetics often requires the use of cleanrooms to meet MoCRA standards. These cleanrooms provide a controlled environment regarding temperature, humidity, and microbial limits, ensuring that cosmetic products are manufactured in optimal conditions.
Quality Control
Quality control measures must be strategically implemented at various stages of production to ensure products meet specified quality standards.
Testing should focus on the evaluation of purity, stability, and safety to guarantee cosmetic products meet immediate quality standards and assure consumers of consistent quality.
Packaging and Labeling
All cosmetics products must bear a label that includes the business's domestic address, phone number, and electronic contact information, along with disclosure of any fragrance allergens included in the product (see Sec. 609 for more details).
Packaging materials should be suitable for the intended use and prevent contamination.
Adverse Event Reporting
A responsible person must report serious adverse events (as defined by the bill, including death, infection, disfigurement, and more) to the FDA within 15 days of the incident.
Reports must include updated medical information within one year of their report.
The FDA has the authority to access adverse event records during inspections (see Sec. 605 for more details).
MoCRA & Cosmetics GMP Guidelines: How To Prepare
The implementation of new regulations highlights the vital importance of protecting your products and the consumers who will use them. Failure to follow Good Manufacturing Practices creates potential risks of varying degrees.
To prepare for the upcoming changes, companies should anticipate a registration process similar to the existing voluntary system (VCRP). This means companies should reassess and enhance their existing GMPs to ensure alignment with new requirements and set up a seamless implementation of necessary adjustments.
As far as contamination is concerned, unwanted foreign objects could be present in your final product, or there could be exposure to harmful, even deadly, bacteria. The damage to your brand and bottom line is significant. Non-compliance with MoCRA's GMP requirements can lead to severe consequences, including suspended facility registrations, mandatory recalls, inspections, warning letters, and potential penalties or fines.
Often underestimated, floor-level contamination can play a major role in complying with GMP protocols. 80% of contaminants enter a cleanroom or controlled environment on the shoes of operators or the wheels of carts and equipment. At Dycem, our mission is to provide solutions to minimize this risk effectively and efficiently. We've helped thousands of companies across the personal care and cosmetics industries achieve enhanced protection through the use of our contamination control floor mats.
Dycem's contamination control mats have a natural tack and high surface energy, proven to attract and retain both visible and invisible particulates. An antimicrobial additive, BioMaster, is incorporated throughout the product, preventing the transfer and further growth of many common microorganisms such as Salmonella, E. coli, and Listeria.
What's more, Dycem mats fit seamlessly into your existing wet cleaning SOPs, as the mats are simply washed and squeegeed daily. With an average lifespan of 3+ years with minimal maintenance or upkeep required after purchase, Dycem mats provide the most effective and lowest total cost solution to contamination control at floor level.
Contamination control and quality are at the forefront of the industry as the ongoing efforts by the FDA to solidify GMP regulations signal a transformation in current practices. MoCRA emphasizes collaboration, communication, and a proactive stance, envisioning a future where cosmetics represent more than beauty—a testament to its unwavering commitment to quality and safety.
Contact Dycem today to understand how we can assist with superior contamination control and peace of mind for GMP compliance.